---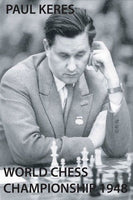 After the death of Alekhine in 1946, FIDE took charge of the World Chess Championship and it was resolved that the new World Champion should be decided by a tournament. Botvinnik, Smyslov, Reshevsky, Keres and Euwe fought for the crown. The outright winner was Mikhail Botvinnik.

Paul Keres spent several months after the tournament giving it a fitting tribute. The result is this epic work, one of the most highly acclaimed tournament books in the history of chess.

I got the idea to translate this book many years ago when I heard that former World Champion Garry Kasparov had said that it was one of the three best chess books ever written and that Boris Gelfand was also full of praise for it. After having looked for the book for a long time I found an old copy from 1949 in an Estonian antiquity store and could finally start my work. I was most pleased that I was able to get the book published in 2016, the 100 birth anniversary year of the legendary grandmaster.  

Readers will very quickly see for themselves how Keres explains what is going on with exceptional clarity. The quality of the games coupled with Keres' unique analytical ability and his huge theoretical knowledge of all aspects of the game point the way to a richer understanding of practical chess. The level of accuracy in his analysis is also surprisingly high. When the book had been translated all the lines were also checked with computers as it is well known that old chess books more often than not contain plenty of inaccuracies in their analysis. But the amazing thing with this book was that there were practically no errors found, and this in a book that was written in 1949! 

The translation of this book took me four years time besides studies and work. But if you dear reader will enjoy reading it, and if the studying of the games from this classical tournament will help to improve your playing strength a little bit I would feel it was worth the effort.